JOKARUS - design of a compact optical iodine frequency reference for a sounding rocket mission
EPJ Quantum Technology
2017
4:9
Received: 28 February 2017
Accepted: 9 May 2017
Published: 22 May 2017
Abstract
We present the design of a compact absolute optical frequency reference for space applications based on hyperfine transitions in molecular iodine with a targeted fractional frequency instability of better than 3 × 10−14 after 1 s. It is based on a micro-integrated extended cavity diode laser with integrated optical amplifier, fiber pigtailed second harmonic generation wave-guide modules, and a quasi-monolithic spectroscopy setup with operating electronics. The instrument described here is scheduled for launch end of 2017 aboard the TEXUS 54 sounding rocket as an important qualification step towards space application of iodine frequency references and related technologies. The payload will operate autonomously and its optical frequency will be compared to an optical frequency comb during its space flight.
1 Sounding rockets as steppingstone for space-borne laser systems
Frequency stable laser systems are a mandatory key technology for future space missions using optical and quantum-optical technologies aiming at Earth observation, tests of fundamental physics and gravitational wave detection. Proposed and projected space missions like STE-QUEST [1], CAL [2, 3], QWEP [4], Q-TEST [5] aim at the observation of Bose-Einstein condensates at unprecedented expansion times, quantum gas physics in the pico Kelvin regime, and dual-species atom interferometry for future precision tests of the equivalence principle with quantum matter [1–3, 6]. Such experiments involving light-atom interaction, e.g., for laser cooling or atom interferometry, require laser systems whose optical frequency is stabilized to specific atomic transitions. Moreover, precise frequency control with high demands on frequency stability and agility as well as intensity control is mandatory. Planned gravitational wave observatories, such as LISA [7], use inter-satellite laser ranging with laser systems at 1,064 nm for detection of gravitational waves in a spectral window between 0.1 mHz and 1 Hz. Next generation gravity missions (NGGM) might use similar laser ranging techniques for global mapping of temporal variations of Earth's gravitational field [8]. The requirement on laser frequency noise of these missions can be achieved by laser frequency stabilization to optical cavities or atomic or molecular transitions. Related technologies have been or are currently being developed in the context of missions aiming at space-borne atom interferometry [9–14] or atomic clocks [1, 15, 16].
In addition to the qualification in environmental testing facilities, the deployment of laser systems in realistic scenarios and relevant environments, offered by sounding rockets or zero-g parabolic flights, allows for rapid iterative tests and further development of related technologies. Sounding rocket mission in particular close the gap between ground and space applications [10, 11] but also enable scientific, pioneering pathfinder experiments as shown with recent MAIUS mission, demonstrating the first realization of a Bose-Einstein condensate of 87Rb in space. Sounding rocket missions based on VSB 30 motors, that are used in the TEXUS program, allow for a 16 min ballistic flight reaching an apogee of about 250 km after 4.2 min ascent, followed by about 6 min of μg time [17]. Typically, four experiment modules can be launched altogether on one mission as independent payloads, each with a diameter of 43.8 cm that can be covered in a pressurized dome. The total scientific payload mass is usually limited to 260 kg, with a total payload length of 3.4 m.
In the JOKARUS mission, we aim to demonstrate an absolute optical frequency reference at 1,064 nm on a sounding rocket. The JOKARUS laser system is based on modulation transfer spectroscopy of the hyperfine transition R(56)32-0:a10 in molecular iodine at 532 nm, using a frequency-doubled extended cavity diode laser (ECDL). Iodine frequency standards realized with frequency doubled Nd:YAG lasers locked to this hyperfine transition have been investigated in detail for many years as optical frequency standards [18, 19]. Thanks to the strong absorption and narrow natural linewidth of 220 kHz [20] these systems exhibit fractional frequency instabilities as low as 3 × 10−15 [9] and an absolute frequency reproducibility of few kHz [21]. These features make them promising candidates for future space missions targeting at the detection of gravitational waves, such as LISA, or monitoring of Earth's gravitational potential, such as NGGM [8], which rely on laser-interferometric ranging with frequency-stable laser systems at 1,064 nm distributed on remote satellites that need to be precisely synchronized. Different realizations of iodine references for space missions were proposed and investigated on a breadboard level [22, 23] and prototypes were built that fulfill the requirements on the frequency stability for such missions [9, 24, 25]. The JOKARUS mission will, for the first time, demonstrate an autonomous, compact, ruggedized iodine frequency reference using a micro-integrated high power ECDL during a space flight.
2 Status of laser system qualification on sounding rockets
In three successful rocket missions, namely FOKUS [
12
], FOKUS Re-Flight and KALEXUS [
11
], we and partners have demonstrated the maturity of our laser systems and related technologies [
26
]. As part of the FOKUS mission, flown on the 23rd of April 2015, a frequency-stabilized laser system, shown in Figure
1
(a), was qualified as master laser for the MAIUS laser system [
10
]. It is based on frequency modulation spectroscopy (FMS) of the D
2
transition in
87
Rb using a micro-integrated distributed feedback (DFB) laser module [
27
]. FOKUS demonstrated the first optical Doppler-free spectroscopy in space. Moreover, the laser frequency was compared to a Cesium (Cs) reference using an optical frequency comb (
Menlo Systems
) during flight, making the FOKUS mission a demonstrator for a null test of the gravitational red shift between the optical transition in Rb and a microwave Cs clock [
12
]. The FOKUS payload was flown again on the 17th of January 2016 aboard the TEXUS 53 sounding rocket under the name FOKUS Re-Flight together with KALEXUS. FOKUS Re-Flight, shown in Figure
1
(b), was updated from FOKUS to a system based on modulation transfer spectroscopy (MTS) using a fiber-pigtailed phase modulator. The KALEXUS mission featured two micro-integrated extended cavity diode lasers (ECDL) [
28
] operating at 767 nm that were alternately offset-locked to each other and stabilized to potassium using FMS. This way, redundancy and autonomy concepts for future space missions were demonstrated [
11
]. The successful FOKUS and KALEXUS missions constitute important qualification steps for the MAIUS mission and towards its follow on missions MAIUS II and III aiming at dual species atom interferometry with Rb and K in space as well as planned satellite missions.

JOKARUS is based on the laser system heritage of these successful sounding rocket missions and is planned to operate on a sounding rocket mission end of 2017. The next section describes the JOKARUS system design and the estimated performance in context of laser interferometric ranging missions.
3 JOKARUS payload - system design
The JOKARUS payload, schematically shown in Figure
2
, features a laser system based on a ECDL with an integrated optical amplifier operating at 1,064 nm, a spectroscopy module including the quasi-monolithic setup for modulation transfer spectroscopy of molecular iodine and two periodically poled lithium niobate (PPLN) waveguide modules for second harmonic generation (SHG), as well as RF and control electronics for frequency stabilizing the ECDL laser to the spectroscopy setup. The individual subsystems are presented in the following sections.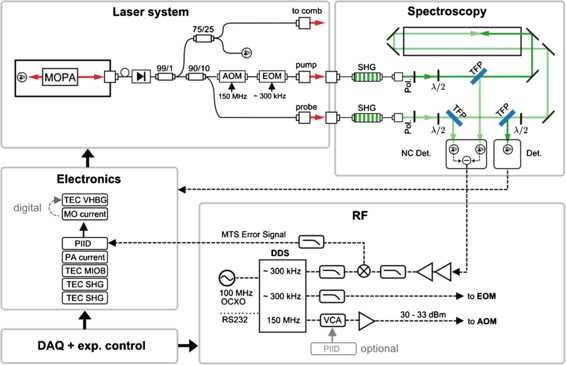 4 Conclusion
We presented the design of an absolute optical frequency reference developed as a payload for a sounding rocket mission and a potential candidate for space applications that require frequency-stable laser systems at 1,064 nm. The payload will be part of a sounding rocket mission planned for a launch end of 2017, where the optical frequency of the JOKARUS frequency reference will be compared to an optical frequency comb during a 6 min space flight. JOKARUS will demonstrate autonomous operation of an absolute optical frequency reference whose performance is expected to meet the requirement on the frequency noise of laser systems for future space missions such as LISA or NGGM. As a next step we see our diode laser technology being ready for in-orbit demonstration on small satellites. In a recently started project, we have begun to develop scenarios to study diode laser system and related technologies in orbit, specifically regarding long-term performance, radiation effects, and autonomy.
The assembly integration technology used for the iodine spectroscopy setup is a very promising technology for realization of compact and ruggedized space optical systems. Future space missions such as NGGM, LISA or MAQRO [33] can benefit from this technology heritage.
As demonstrated with the FOKUS and KALEXUS missions operating laser frequency references at 780 nm and 767 nm, respectively, this project further shows the versatility of the micro-integrated diode laser technology for the realization of compact and efficient laser systems for applications in the field. Such compact, reliable and ruggedized diode laser based frequency references are also a promising candidate for mobile atomic sensors and optical clocks on ground. Future space missions using laser or atom interferometry for geodesy, gravitational wave astronomy or quantum tests of the equivalence principle, together with the development of space optical clocks may benefit from this technology heritage and its first applications in space missions.
Declarations
Acknowledgements
The authors thank Ulrich Johann and Alexander Sell from Airbus DS (Friedrichshafen) for support within the Laboratory of Enabling Technologies where the iodine spectroscopy unit was integrated. This work is supported by the German Space Agency DLR with funds provided by the Federal Ministry for Economic Affairs and Energy under grant numbers DLR 50WM 1646, 50 WM 1141, 50 WM 1545.
Open Access This article is distributed under the terms of the Creative Commons Attribution 4.0 International License (http://creativecommons.org/licenses/by/4.0/), which permits unrestricted use, distribution, and reproduction in any medium, provided you give appropriate credit to the original author(s) and the source, provide a link to the Creative Commons license, and indicate if changes were made.
Authors' Affiliations
(1)
Humboldt-Universität zu Berlin, Berlin, Germany
(2)
Zentrum für angewandte Raumfahrttechnologie und Mikrogravitation (ZARM), Universität Bremen, Bremen, Germany
(3)
Deutsches Zentrum für Luft- und Raumfahrt (DLR), Institut für Raumfahrtsysteme, Bremen, Germany
(4)
Menlo Systems GmbH, Martinsried, Germany
(5)
Ferdinand-Braun-Institut, Leibniz-Institut für Höchstfrequenztechnik, Berlin, Germany